Anna Maria Island is surrounded by warm water and soft sand, a perfect recipe to cook up the most gorgeous stretch of beach on the west coast of Florida. Which is why the answer to the question of, "What is the best beach on Anna Maria Island?," is such an easy one to answer. All of them. There are few spots on AMI where the beaches are distinctly different, but very much of the continuous 7 mile coastline is very similar throughout.  
Unbeatable beaches and sunsets galore, need we say more. On account of the narrow width of the Anna Maria Island, most vacation rentals and hotels are just a short stroll to the Gulf of Mexico. At the very north tip of Anna Maria sits Bean Point.  It boasts wide beaches and offers panoramic views of both the Gulf and Tampa Bay. The Manatee Beach in Holmes Beach is right in the middle of the 7 mile Island and offers food, live music and facilities. The south end of the Island offers a diverse stretch of beach also known as Coquina. There are both busier and quieter spots up and down the continuous beaches of Anna Maria, there is something for everyone. So whether you are looking for perfect sunsets, non-stop shelling, or plain old sun-soaking, Anna Maria Island's magnificent shores will have you and the family coming back for years to come. 
The Beautiful Beaches of Anna Maria Island....
Bean Point Beach
North Tip of Anna Maria Island
Use the North Bay Public Beach Entrance
Manatee Public Beach
4000 State Road 64 & Gulf Drive, Holmes Beach
941.742.5923
Coquina Beach
2650 Gulf Drive, Bradenton Beach
941.742.5923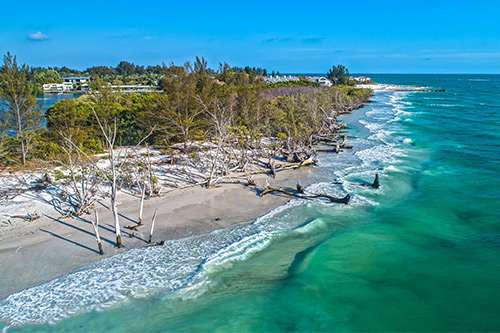 Beer Can Beach (Island)
N Shore Rd, Longboat Key
941.316.1988
Looking for a Vacation Rental Home on Anna Maria Island? 
Follow the Flip-Flops. Let us help you.
Explore Anna Maria Island Vacation Rentals by Popular Searches